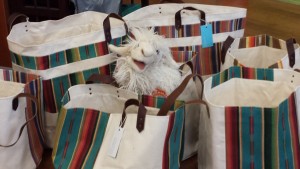 It still may be toasty outside, but inside the store we're getting set up for fall.
Cory Ellen Boberg of Indie.Knits is putting the finishing touches on a brand-new design our fall knitalong sweater (more on that coming soon!)
Meanwhile, stock arrives almost daily. Yesterday we received a new shipment of Good Company Wares totes and bucket baskets. They're made in Portland and feature extra-sturdy canvas and leather handles.
The day before, we received Villa, a sister yarn to the much-admired Vail, a slinky and soft alpaca-bamboo blend. While Vail is undyed, Villa features deep, saturated colors.
A new batch of Malabrigo yarns is on its way, and another shipment of Madelinetosh yarns are in the dyepot right now.
We can't wait to see what comes through the door next week, ready for knitting season!