newsletter summer 2017 – color
read more
Are you ready to develop some new skills in the new year? Our Winter 2017 Newsletter is ready with classes for knitting, crocheting, weaving and more! It also has information about upcoming events, including our Knit Along and a trunk show.
read more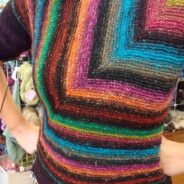 Fall 2016 Knitalong – Halite
read more
The Fiber Gallery will be closed Monday, September 5, to celebrate the Labor Day holiday. We will reopen at 11 a.m. on Tuesday the 6th.
read more
Try something new this fall! Check out our schedule of knitting, crochet, spinning, weaving, felting, needlepoint and rug-hooking classes, and read about upcoming activities in our fall newsletter.
read more
Our fall knitalong, Halite, is a universal sweater — it can be knit in any yarn at any gauge to fit any size! The sweater front features a mitered square that creates a diagonal 'seam.' It shows off variegated yarns especially well, but also looks great in a solid color. The back and sleeves are knit in a neutral contrasting color. The back features a second design with four miters. The kimono-style sleeves are picked up and knit from the sweater body, and can be knit to any length. Because the sweater can be knit in any weight of yarn, gauge is unimportant. Just pick a needle size appropriate for your yarn and you're good. The sample front was knit in Silk Garden Sock; the back in Tosh Merino Light. Likewise, the sweater will fit any size. Just take a couple of basic measurements and you're on your way. No complicated shaping is involved. The knitalong kicks off Saturday, September 24.  More details are in our fall newsletter...
read more
Have you ever admired our knitted and crocheted samples here at the shop and wish you could just buy them "off the rack"? We have gathered up dozens of samples that use discontinued yarn or patterns and are putting them on sale for you! Most are in children's sizes or women's size Small. These samples will be priced to move, so visit us this weekend, July 2 and 3, and find yourself some great items.
read more
We have a few new titles in the store: Knit My Skirt by Candace Eisner is a collection of youthful and attractive skirts that you can make yourself. Highland Knits is an homage to the wonderful chunky knits featured on the Outlander TV show. It features shawls, capelets and more, many whipped up in superbulky wools. Lastly, although not new, Barbara Walker's Fourth Treasury of Knitting Patterns has been out of print for a long time. Now it's back. We have all four of Walker's treasuries, a must-have encyclopedia of knit...
read more
Just as a reminder, we will be closed Monday, July 4, to celebrate the Independence Day holiday. We will reopen with our usual hours on July 5.
read more
Many of our customers don't realize that the store has a parking area. The lot is behind the store, with the entrance off of 83rd Street, and it's free. You can use any of the spots not marked for a specific business. If you're taking a class or attending an event, you can also ignore the 2-hour parking limit: Our landlord is fine with our customers spending as long as they need at the store.
read more