Cocoknits is hosting its third Cocoknits method Knit-A-Long (KAL). Here at The Fiber Gallery we are huge fans of this unique, but intuitive, method of sweater construction and so we've decided to join in the fun!
This year the Cocoknits team has decided to make their KAL into an "everlasting KAL" so you can join their KAL at anytime and progress at your own pace. Their emails will lead you through all the steps of making the sweater.
However, if you want to knit with us, we recommend signing up in the first week and getting started soon. This way the discussions in our KAL sessions will be relevant to where you are and we can support you as you progress through the steps.
Sign-ups are now open! Click here to sign up for for Cocoknits KAL emails.
---
What is the Cocoknits Method?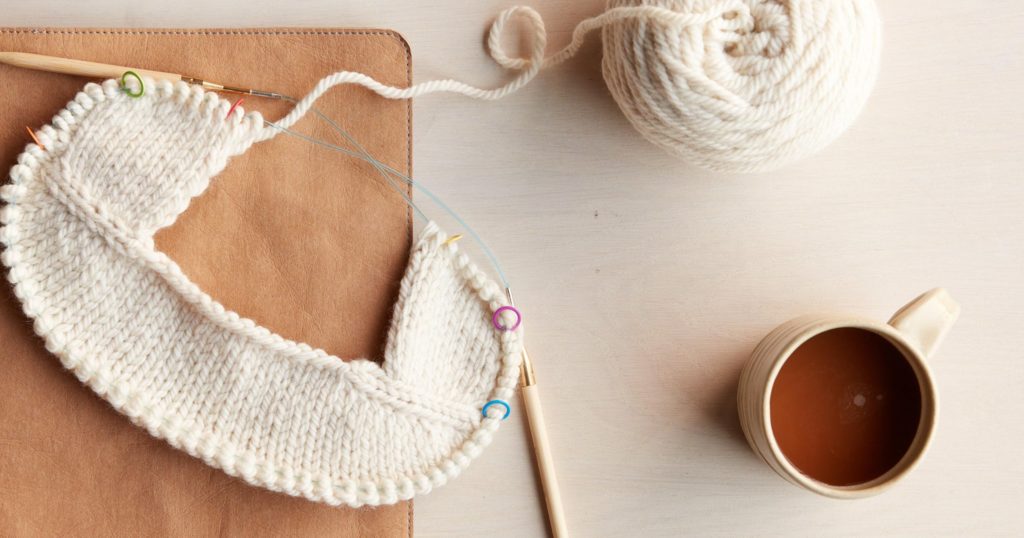 The Cocoknits method of sweater construction is a unique, seamless, top-down method of sweater construction where you "shape" the sweater as you go; seamlessly creating a 3D shape. The method was created by designer Julie Weisenberger, and her book, Cocoknits Sweater Workshop, introduces this method and walks knitters through all the steps.
The Cocoknits Sweater Workshop book provides great guidance and, once you understand the basic principle of how the construction works, the method is an amazing way to adapt patterns to fit your body.
The Cocoknits method uses a unique color-coded system that allows you to easily track your knitting progress and and easy-to-follow, customizable, worksheet guides you through the construction. The method and worksheet make it easy and logical to adapt patterns to suit your body.
You can also check out this page on the Cocoknits website for more details of the Cocoknits method.


KAL Pattern : The Toni cardigan
In this KAL we'll be knitting the Toni, a wearable and versatile v-neck cardigan. The pattern includes a number of different options for different button bands, pockets and color combinations.
• Two types of incorporated button bands (Version A: garter, Version B: rib),
• Two types of colour-blocking
• Two types of pockets (Version A: knitted as you go, Version B incorporated with bottom front ribbing)
• Two different lengths.
If you're new to the Cocoknits Method the Everlasting KAL is a great way to knit your first sweater. Cocoknits will provide step-by-step instructions and videos to help you with the techniques that will be used throughout your entire project.
Please note that the Cocoknits Sweater Workshop book is crucial to understanding the method, so having this book is highly encouraged (we will not be able to offer additional support if you don't have the book). The book also includes a ton of fantastic knitting techniques, tips about choosing the best garments for different body shapes, and several patterns using the Cocoknits Method.
---
How to Sign Up & Participate: Cocoknits.com
The official Cocoknits Everlasting KAL will be hosted by Cocoknits, so you need to sign up on their website to get the weekly (or every-other weekly) emails that will provide the steps and guidance for progressing through the sweater. These emails will be your main guidance throughout the KAL and will help you keep on track.
Sign-ups will open up on January 28 on Cocoknits website – be sure to sign up so that you get the emails from Cocoknits which will outline all the steps and provide the guidance for each section of the sweater.
Upon signing up you will receive a welcome email with information on planning and prep work for your sweater. After the welcome email, each subsequent email will be sent to you one or two weeks later to progress through the KAL. Each email will focus on the next steps in the 8 week process.
How to Sign Up & Participate: The Fiber Gallery
You can just sign up to get the Cocoknits emails and knit-a-long that way. However, there are extra perks to joining our KAL.
Customers who participate in our KAL will get
Access to weekly Zoom sessions with The Fiber Gallery
A coupon code to get the Toni pattern for free
Access to Zoom sessions led by Cocoknits designer Julie Weisenberger (these are exclusive to customer who sign up through a yarn store – there will be two during the initial 8-weeks of the KAL)
And weekly prizes!
To participate with us we ask that you buy the yarn (or the Cocoknits Sweater Workshop book) from The Fiber Gallery.

Each of our weekly Zoom sessions will correspond with an email from Cocoknits. The sessions will be a chance to socialize, check in on your progress, and go over questions you might have related to that weeks stage of the sweater. All sessions will be from 1-2 pm (Pacific time).
Sunday, February 6, 2022 – Review Week 1 Topics (Prep Week)
Sunday, February 13, 2022 – Review Week 2 Topics (Sections 1-3)
Sunday, February 20, 2022 – Review Weeks 3-4 Topics (Filling out the Worksheet)
Sunday, February 27, 2022 – Review Weeks 5-6 Topics (Sleeves & Body)
Sunday, March 6, 2022 – Review Week 6 Topics (Pockets)
Sunday, March 13, 2022 – Review Week 7 Topics (Finishing & Blocking)
Sunday, March 20, 2022 – No Zoom from The Fiber Gallery: work on finishing your sweaters (but, Cocoknits has one on Saturday, March 19, 2022)
Sunday, March 27, 2022 – Finale Party! Prizes for finishers!
Be sure to sign up in store (when you get your yarn/supplies) and so you can get the Zoom invitation and other perks!
---
Suggested Yarns
The Toni pattern calls for a worsted (to heavy worsted) weight yarn, and a guage of 18 stitches/ 4 inches. While Cocoknits does have a great tutorial on adapting patterns to use a different guage of yarn (which will be included in the first week's email), we recommend (especially if this is your first Cocoknits Method sweater) using a yarn that gets you a gauge close to this.
Here are a few of our suggestions:
Lucky Tweed (Kelbourne Woolens)
Cormo Worsted (Sincere Sheep)
Malabrigo Worsted
Germantown (Kelbourne Woolens) (we are low on some colors – so this is probably best if you want to do a colorblocked version)
Knitted Wit Aran
Mochi (Berroco)
Homestead/Homestead Tweed (Plymouth)
Ultra Wool (Berroco)
Cotton Merino/Cotton Merino Tweed (Katia)
Worsted Cotton (Blue Sky Fibers)
---
Recap – the TL;DR version
Did you make it this far? It's a lot of information to take in, but here's the quick breakdown of what to do to participate:
Sign up at cocoknits.com to get emails. Click here to sign up for the KAL emails from Cocoknits.
Visit us at The Fiber Gallery to pick out the yarn for your Toni sweater and other supplies (including the Cocoknits Sweater Workshop book if you don't already have it).

While you are in store to get your supplies, sign up to join The Fiber Gallery's KAL. This is also how you'll get your code for the free pattern.

Get started and follow along with the steps detailed in each email!

Each email from Cocoknits will provide the guidance you need to tackle the next steps in making your sweater.

Hint: the first email will be about picking your yarn and swatching!

The Zoom sessions with The Fiber Gallery will be to review what's covered in each email and offer a little additional support.
Feel free to reach out an ask us if you have more questions about the KAL.
Note: If the Toni sweater isn't your thing, the code will actually work to get any of the standalone Cocoknits Method patterns from Ravelry (not the patterns in the book – those are exclusive to the book). You can participate with another pattern, but the KAL support and resources will be geared towards knitters working on the Toni pattern.