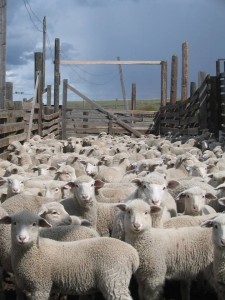 Join The Fiber Gallery October 24 to 27, 2014 for four days of yarn fun on Oregon's scenic Deschutes River.
Classes
Bonne Marie Burns, Portland-based designer and founder of Chic Knits, will be your instructor for a day of classes. Bonne Marie's popular patterns are known for their contemporary look and their ease of fit in a wide range of sizes.
Ranch Tour
Visit Imperial Stock Ranch, home of Imperial Yarn. Meet owners Dan and Jeanne Carver and learn about their sheep-to-yarn operation. Imperial Yarn is fresh off its stint as suppliers of yarn for Team USA's Olympic uniforms. Its sustainably pastured Columbia sheep provide all the yarn for its line of fibers. You'll also be treated to a sheep dog herding demonstration and, of course, have an opportunity to shop.
Transportation
Your retreat fee includes eco-friendly bus transportation to and from Seattle. Expect surprise activities en route.
Lodging
You'll stay at the Imperial River Company lodge on the banks of the Deschutes River. All your meals are included, plus a wine and cheese reception when you arrive and a boxed lunch for the bus trip back.
Your Hosts
The Fiber Gallery has been serving Seattle knitters at its Greenwood location for 10 years. Join owner Mary Harris and manager Jessica Rose as they lead this fiber adventure!
Pricing
Retreat packages start at $900 for all-inclusive trip and double-occupancy lodging.
Upgrade to single occupancy for $1100.
Treat yourself to a single-occupancy river-view room for $1300.
Register
Please call us at 206-706-4197 to register. Registration deadline is May 31.