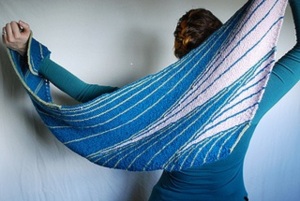 Our Spring/Summer Knitalong features the versatile and fun to knit Robin Shawl. Portland-based Lee Meredith is the designer of this multicolor project. Our sample features Folio yarn from Berroco, a light and soft blend of rayon and alpaca.
The pattern is flexible, however, and you can substitute any DK-weight yarn or even your own choice of weight. You can make it in three colors or two. And because the shawl is knit from the bottom point upwards, you can knit until your project is the size you want (or until you run out of yarn!)
The kickoff party is Saturday, May 2, from 4 to 6. As usual, we'll have lots of advice at the ready and we'll draw for door prizes.