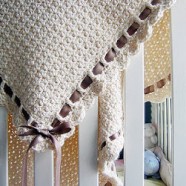 If you've always wanted to crochet but haven't known where to start, our winter crochetalong is just the thing for you.
The Tiramisu baby blanket is a free, simple beginner pattern with an elegant ribbon edging. It's made out of organic, soft, washable Blue Sky Organic Cotton. Best of all, we'll teach you how to crochet it for free! 
Just join us on January 26 from 12:30 to 2:30 for our Tiramisu kickoff and purchase the materials for the project. We'll show you the simple single-crochet stitch that's all you need for the bulk of the project. Then join us again toward the end of the project and we'll show you how to edge the blanket.
This also a terrific project for those who already know how to crochet and want to practice their skills. And P.S., if there are no babies in your life, it makes a lovely lap blanket for chilling out at home.