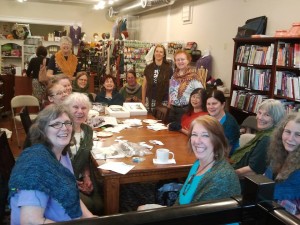 We value our customers and the community they create.  We have an active online community as well as groups which meet in the shop, and wonderful customers who drop in for awhile to work on projects.
Please feel free to drop in and join us!
Chemo Caps for Kids
Our charity knitting group has been super-busy this winter and spring. We recently donated 125 hats for premie babies and cancer patients to Children's Hospital. If you'd like to join in, we're always looking for more knitters! The group meets Thursdays from noon to 2 p.m. at the store.
Scheduled Groups
Sit and Knit
All levels of knitters, crocheters and stitchers are welcome to bring their latest project and join us for knitting and socialization.
Free.
Tuesdays, 6 to 9, Wednesdays, 12 to 2
Seattle Spinners
Join us for our monthly spinning circle.  Bring your spindle or wheel.
Free.
First Friday every month, 6:30 to 9.
Charity Group
Knitters and crocheters are invited to join us every week to socialize while you work on a project for the charity of your choice. We have plenty of suggestions. All skill levels welcome.
Free.
Thursdays, 12 to 2
Online
You can find us in many places online.
Ravelry
Facebook
Twitter
Our Blog
LYS Tour