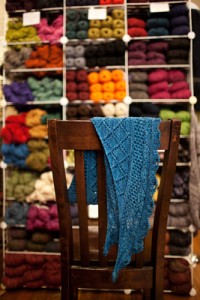 We carry a full line of more than 100 kinds of yarn from Berroco, Blue Sky Fibers, Brown Sheep, Elemental Affects, The Fibre Company,  MadelineTosh, Malabrigo, Manos Del Uruguay, Noro, Rowan, Sincere Sheep, and many more. We also stock a large selection of yarns made here in the Pacific Northwest including Hazel Knits, SpinCycle, Knitted Wit, Cedar House Yarns, WildStar Fibers, and Blue Moon Fiber Arts (Socks that Rock). We carry more than a dozen brands of sock yarn.
We carry a  Addi and Clover needles, as well as bags, baskets, notions and books.
Felters will appreciate our raw fiber and needle-felting accessories. For those who want an introduction to weaving, we carry Cricket 10-inch and 15-inch table looms, and other small looms including the popular School Loom. We  also have spindles a wide range of  roving and fiber for spinning.